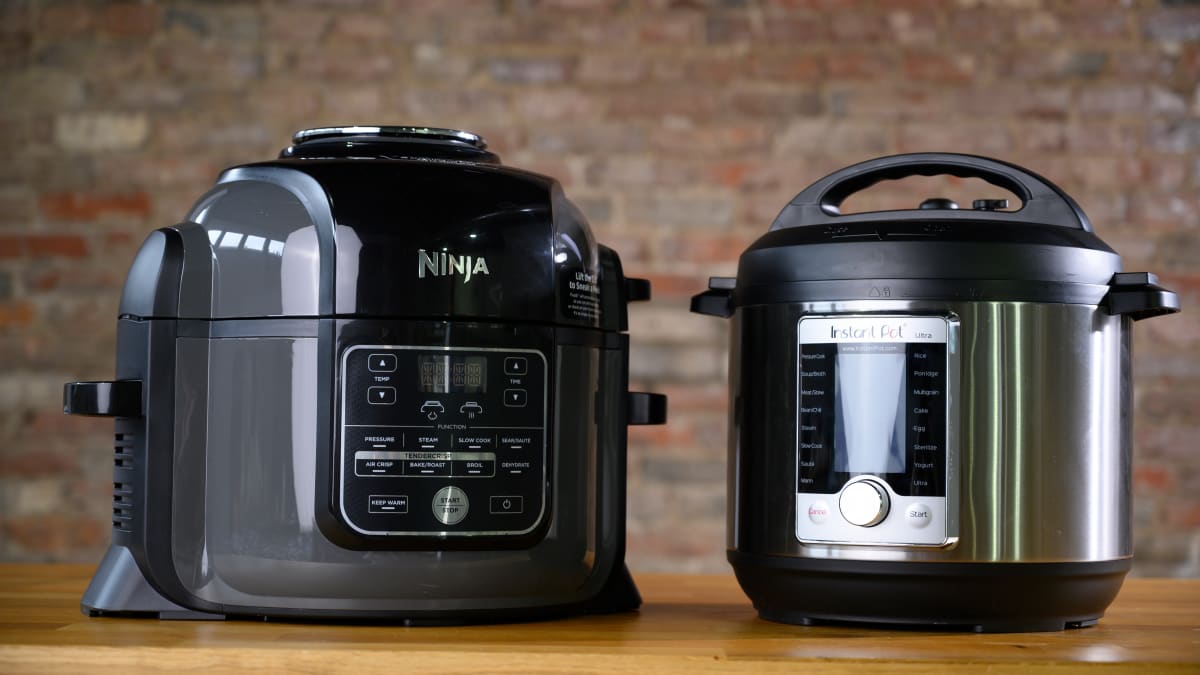 As we brace ourselves for a winter of social distancing, it seems like there will be little to do other than stay inside and prepare warm, hearty foods — all of which you can make more quickly in a pressure cooker. While we've written about all the best items to stock your kitchen — including Dutch ovens and slow cookers — here, we've rounded up the best pressure cookers, as praised by the most enthusiastic reviewers on Amazon.
Instant Pot DUO60 6 Qt 7-in-1 Multi-Use Programmable Pressure Cooker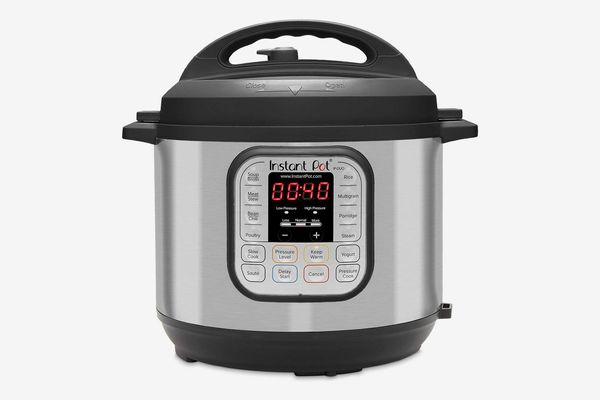 Though the Instant Pot has seven different functions, over 7,000 five-star reviewers specifically call out this multifunctional kitchen gadget's pressure-cooking capabilities. And lots of them appreciate that it's got a bunch of built-in safety features to reduce the risk of pressure-cooking mishaps. "It is almost impossible to mess up with this thing to a point of being dangerous, so if you're concerned about the exploding pressure cookers of yore, you needn't be (I said 'almost,' don't go overriding your pot's safety features and then blame me when you poke an eye out)," one reviewer writes. And the cooking possibilities in the Instant Pot are seemingly endless, though many say the results are reliable and quick. "I've been making a lot of stews, and I'll sauté the onions, carrots, and meat, then add everything else, seal it, and set it for seven minutes on high pressure. I let it release naturally and have a perfectly cooked, tasty meal every time," says one reviewer. Another customer warns, "It has the pressure release valve that will scare the (*#!&) out of you every single time you switch it over. But don't let that intimidate you out of this purchase.

HAWKIN Classic 2-Liter New Improved Aluminum Pressure Cooker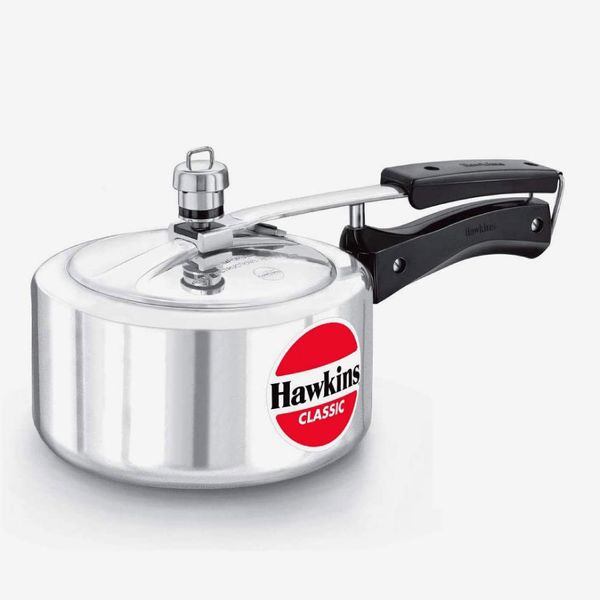 "I use this every week for cooking up meals," one user says of this pressure cooker. "It is durable, easy to clean, and great value for your money." With only a two-liter capacity, it is relatively small, but one reviewer says, "It is perfect size for family of two to four," and another writes that they can still use it "for almost all kinds of recipes." The reviewer cooking for a small family says "The pressure is extremely good to make rajma in 45 minutes without soaking overnight." Another uses it mainly to make rice. But no matter what you're putting in it, one reviewer concludes, "Overall, this pressure cooker is very well built and should provide you with years of use." They add, "The handle appears to be Bakelite or similar material and feels very durable. The pressure release valve works well and is relatively easy to clean in the unlikely event it gets dirty.

T-fal Pressure Cooker, Stainless Steel Cookware, 15-PSI Settings, 6.3-Quart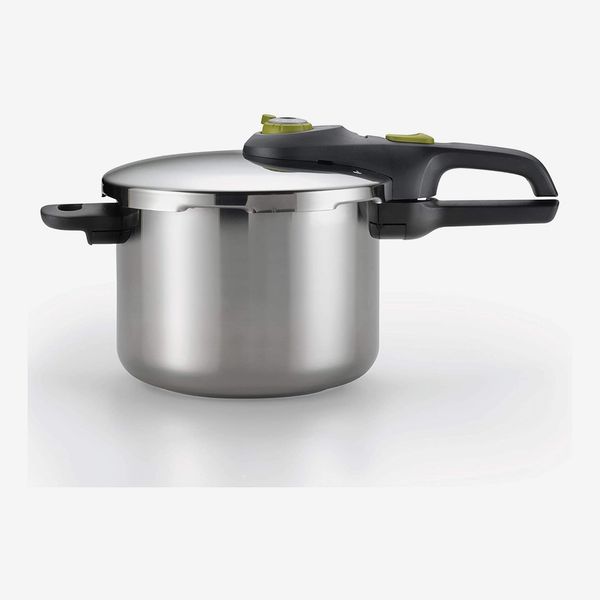 If you don't know how to use a pressure cooker, they can be dangerous, but one user describes this stovetop model as "idiot-proof" because of all the safety features. "The seal is very sturdy, the correct positions are marked and the lid is easy to lock firmly onto the base," another reviewer writes. "The pressure valve is also clearly marked and very easy to set. The instructions are clear about maximum fill levels and the minimum amount of liquid required for the cooker to work properly—and there are markings on the side of the cooker itself." Because of all these precautions, "I don't think twice about my safety when it's at full pressure (my old one used to scare the pants off of me)," one reviewer says. Another first-time pressure cooker user notes that the actual cooking is pretty simple too: "My first attempt was carnitas. … 45 minutes after it was up to pressure and they came out perfect — stirred to shred and poured through a strainer — awesome!"

T-fal Clipso Stainless Steel 12-PSI Pressure Cooker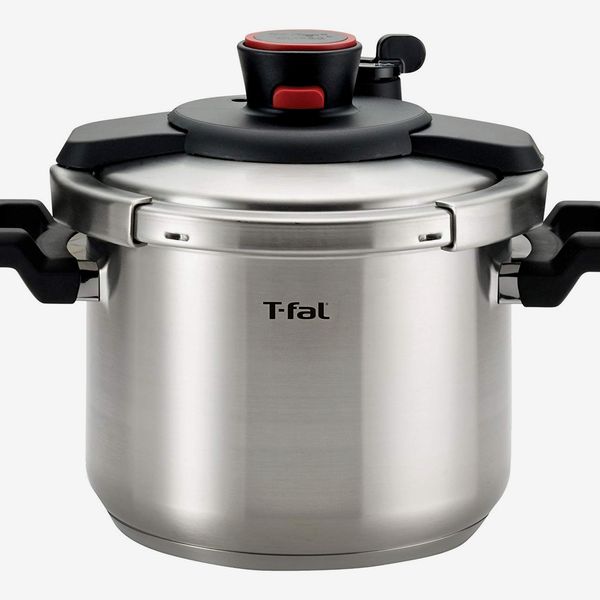 "The MultiPot was very intuitive from the beginning; there were simple, straightforward directions in the box that easily explained how to set it up. I was ready to start cooking in no time. The pot also came with a lot of extras like silicone mitts, a trivet, a steaming basket, and two different rubber seals. The pot itself is a really beautiful charcoal grey color and I quickly replaced my old, ugly rice cooker for this beautiful 9-in-1 magical cooking machine. So far I've cooked a ham in just 15 minutes and a favorite pasta dish in four minutes. The Mealthy app is also really helpful as it has lots of tips and recipes. Learning how to cook in a multipurpose pressure cooker is different than regular cooking, so having recipes and guides is helpful.

Instant Pot Smart Wi-Fi 6 Quart Multi-Use Electric Pressure Cooker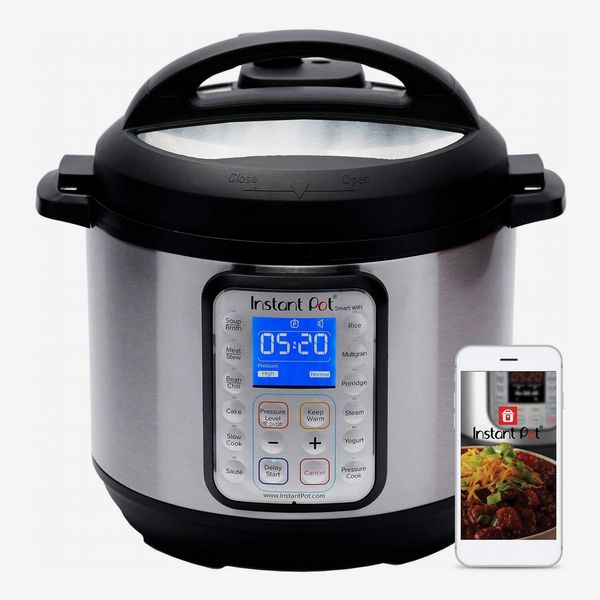 "This isn't your mother or grandmother's pressure cooker," one reviewer writes. "It is far easier to use, doesn't 'blow up' and is really easy to clean." Just like our best-rated pick, this Instant Pot has a lot of different functions, but many reviewers use the pressure-cooker setting and are impressed by how fast it cooks. "The idea of cooking a whole chicken in ten minutes or soup in 20, all in ONE POT, is kind of insane, but this is the real deal," one writes. What sets this model apart from our best-rated pick is that it connects to Wi-Fi, allowing the user to operate the Instant Pot from their phone. "Did I pay a $50 premium to use my phone to start cooking? Yes. Yes I did," writes one reviewer, who isn't disappointed with their decision. Not only can you use an app to control it, but it's compatible with Alexa and Google's voice assistant, which dozens of reviewers appreciate. As one five-star customer explains: "It alerts you and shows you when it's preheating and the progress on your phone or you can ask Google how's the rice cooker doing and Google will reply the eta and if it's preheating or what.

Crock-Pot 8-Quart Multi-Use XL Express Crock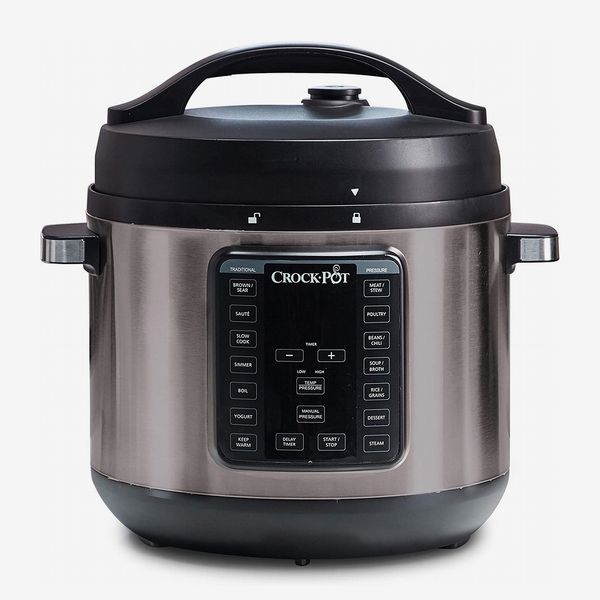 At this point, Crock-Pot is just about synonymous with the electric slow cooker, so it's little surprise that the slow cooking function on this multi-use pressure cooker gets a lot of praise. And though the slow-cooking function meets reviewers' high standards, the pressure cooking does, too. One reviewer who cooks for "8 or more people (5 kids, the man, family/friends) on a nightly basis," calls this appliance, "the love of my life. I can cook FROZEN SOLID MEAT ( as in 5-10 lbs of it) in an hour or less…. I can make yogurt, sterilize yucky baby things, make delicious soups/chili/stews quickly that taste like they simmered all day." As one user concludes "Of all 'gadgets' for the kitchen, this cooker is the all-time #1.

Ninja Foodi Pressure Cooker, Steamer & Air Fryer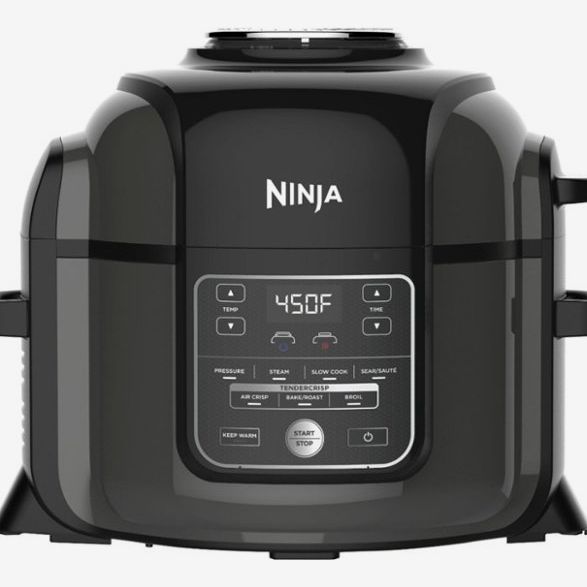 Reviewers agree if you're in the market for a multi-use kitchen appliance, this pressure cooker saves valuable counter space since it works as an air fryer as well. But that doesn't mean it's compact. "The only flaw for this cook-everything machine is its size on my counter. It has a big footprint," writes one reviewer, before adding, "For me though, I was able to reluctantly take several items off my counter, which made up for the size. I reluctantly and sadly removed my Instant Pot, gladly took out my rice cooker, and removed the air fryer I have mixed feelings about. This machine takes the place of all three and is a net win in counter space." Another reviewer says, "After visiting my daughter's home a couple of months ago and using her Instant Pot for the first time, my wife and I decided we wanted one. We also had been wanting an air fryer. Friday night we decided to make chicken wings and WOW!! … I couldn't believe how good they were!